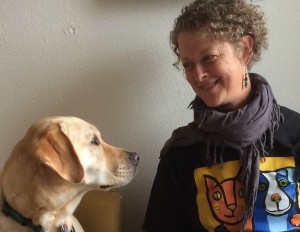 My passion is helping you gain greater understanding of your companion animal's behavior so that your dog or cat can enjoy a loving forever home. We meet in your home so I can uncover the coping mechanisms your animal may have developed from previous environments. This allows me to observe your pet's body language and to help create a plan to reach your goals. I have specialized training to help you help your dog learn new ways of behaving in current reactive situations. I value the continuing education that you and your companion animals teach me, and I appreciate your request for professional guidance to find solutions for problem behaviors.
I am a also a licensed massage practitioner and perform sessions in your home to support your companion animal's quality of life and overall health, activity in canine sports or service, or to provide comfort for end of life care.
I successfully help clients meet their goals in the Seattle-Tacoma area, the Kitsap Peninsula, Bainbridge Island and Vashon Island.
Wendy Dahl's Credentials & Experience
Master's degree in Psychology and trained with Lynne Seibert, D.V.M. and James Ha, Ph.D.
Certified Behavior Adjustment Training Instructor (CBATI), a training specialty that uses behavior modification to address fear, aggression and frustration. This force-free method is practiced by a network of international professionals seeking more efficient and ethical ways to interact with and train animals.
Graduate of the Northwest School of Animal Massage and nationally board certified and licensed by the State of Washington as a Small Animal Massage Practitioner.
Member of the Animal Behavior Society, the Association of Professional Dog Trainers and the National Board of Certification for Animal Acupressure and Massage.
More than 20 years of experience in canine rescue in the Pacific Northwest, a member of the Board of Directors for the Vashon Island Pet Protectors rescue and a former board member and foster home for Seattle Purebred Dog Rescue.